John 16.17-33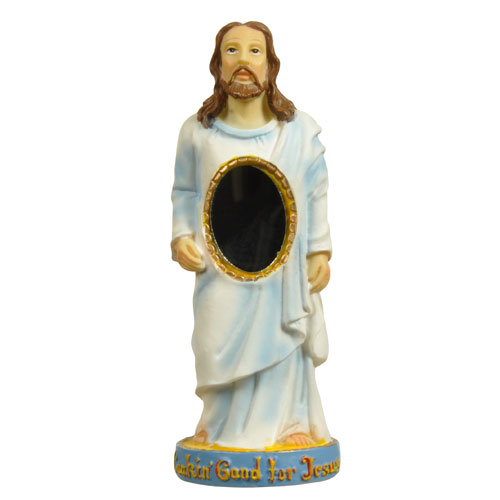 17 Some of the disciples asked each other, "What does he mean when he says, 'In a little while you won't see me, but then you will see me,' and 'I am going to the Father'? 18 And what does he mean by 'a little while'? We don't understand."
19 Jesus realized they wanted to ask him about it, so he said, "Are you asking yourselves what I meant? I said in a little while you won't see me, but a little while after that you will see me again. 20 I tell you the truth, you will weep and mourn over what is going to happen to me, but the world will rejoice. You will grieve, but your grief will suddenly turn to wonderful joy. 21 It will be like a woman suffering the pains of labor. When her child is born, her anguish gives way to joy because she has brought a new baby into the world. 22 So you have sorrow now, but I will see you again; then you will rejoice, and no one can rob you of that joy. 23 At that time you won't need to ask me for anything. I tell you the truth, you will ask the Father directly, and he will grant your request because you use my name. 24 You haven't done this before. Ask, using my name, and you will receive, and you will have abundant joy.
25 I have spoken of these matters in figures of speech, but soon I will stop speaking figuratively and will tell you plainly all about the Father. 26 Then you will ask in my name. I'm not saying I will ask the Father on your behalf, 27 for the Father himself loves you dearly because you love me and believe that I came from God. 28 Yes, I came from the Father into the world, and now I will leave the world and return to the Father."
29 Then his disciples said, "At last you are speaking plainly and not figuratively.30 Now we understand that you know everything, and there's no need to question you. From this we trust that you came from God."
31 Jesus asked, "Do you finally trust? 32 But the time is coming—indeed it's here now—when you will be scattered, each one going his own way, leaving me alone. Yet I am not alone because the Father is with me. 33 I have told you all this so that you may have peace in me. Here on earth you will have many trials and sorrows. But take heart, because I have overcome the world."
Comments
Well, I made it almost all year without missing a day. Made it through finishing my Ph.D., three conferences, a full semester of teaching, and then I spent two days in bed sick and lost it. The sickness was only part of it though. The other factor was the density of these passages. I had a lot to say about the one before this because it was a main part of my dissertation, and that clued me into the depth these waters. I read this passage and felt lightheaded, both from the medication and the statements Jesus makes here.
You won't see me. Then you will see me.
You will weep, mourn, grieve. Then your grief will turn to joy.
It will be like going through the travail of labor: intense pain, then relief and happiness of having a child.
You will have joy that cannot be taken away, cannot be stolen.
You can ask for anything and the Father will give it to you.
That's a lot. And wow it sounds great. Too good to be true in fact. In his final teaching moment, Jesus goes for the sell, puts on a strong close. It sounds even bolder when we remember he was moments away from being arrested, a fact John has already told us Jesus was well aware of. Faced with his impending death, Jesus sounds really positive. The sorrow and travail he talks about here reminds us of the Gethsemane scene from the other Gospels, but there is no indication he had a personal struggle here. For John, not seeing Jesus goes along with sorrow, trials, and grief. Seeing Jesus goes along with joy and peace. While grief is coming, joy remains where Jesus is.
Commentators debate whether John meant this not-seeing and seeing to refer to Jesus' death and resurrection only, or to his promised return as well. The first two make sense for those Jesus was talking to, the third makes more sense for John's readers (including us). Or so the debate goes. But I want to connect this not-seeing to what Jesus said back in v.10, "I go to the Father and you won't see me anymore." If the promise of joy and peace are only for the short time between resurrection and ascension and then not again until the end of all things, how does that help us? Why include that in a last exhortation? It's like saying, "Things are going to stink for a couple thousand years (or more), but it'll be okay." What? What sort of overcoming of the world is that?
Remember what I said about v.10. The followers of Jesus not seeing him anymore relates to our promotion to being the ones who bear justice to the world. We are the healers of the sick. We are the ones who give sight to the blind. We are the ones who do life with the marginalized. The world is full of grief and sorrow (v.32), that is its default setting, but the followers of Jesus bring his joy and his peace to the grief-stricken world.
Or at least, we're supposed to. Too often our concerns are for ourselves, not for justice for others, but for privilege for us. It is in this context of being the hope, joy, and peace of the world that Jesus gives this blank check. We can ask for whatever we want – that is, for whatever helps us do life with those who suffer and mourn – and God will help us do that. But we turn a great resource for justice into an infinite line of credit for perpetuating injustice. Prosperity gospels miss the essential selflessness of this promise and make the opposite of it: empowerment to live emulating Christ becomes a selfish pursuit that is altogether anti-Christ.
We don't see Jesus in the world when we fail to be Jesus for the world. That should cause us to weep, mourn, and grieve.
We see Jesus in the world when we are Jesus for the world. The justice we work for brings hope, peace, and joy to the world. Our joy cannot be stolen because we give it away freely.
New Living Translation (NLT) Holy Bible. New Living Translation copyright© 1996, 2004, 2007 by Tyndale House Foundation. Used by permission of Tyndale HousePublishers Inc., Carol Stream, Illinois 60188. All rights reserved.